CHAPTER 23 – CONVERSATION
I'm happy that Friday is on the island. I want to show him what I eat. I shoot a young goat. Friday is scared of the gun. He doesn't understand how such a small thing can kill a goat. He doesn't want to touch the gun.
We make a soup. When I cook the soup, Friday goes to the forest and he brings some herb. He puts the herb in the soup. The herb is similar to pepper.
The soup smells fantastic. The soup tastes fantastic too.
The next day, we cook goat meat with sauce. Again, Friday brings some herbs and also plants. The herbs make the sauce taste great. We make a nice salad from the plants.
I teach Friday how to prepare corn and bake bread. Soon, he can bake very good bread.
Then, we make my field bigger because we want to have more corn.
In all activities, Friday helps me a lot. He can also catch fish very well. Our cooperation is simply great. We are a good team.
I want to teach Friday English. I want to teach him fast.
I want to be a good teacher. I take my role very seriously. I think about the best method how to teach Friday English.
When I speak fast, Friday doesn't understand. So I try to speak slowly. I also speak only in the present. And I use simple words. I also say only short sentences. Now, Friday understands more. We speak about many topics.
When Friday doesn't understand something, I point at it. Or I explain the word to him. If it doesn't help, I make a picture in the sand.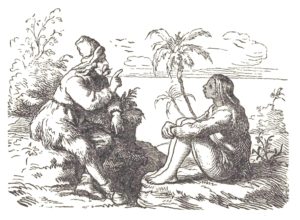 Soon, Friday starts to understand many sentences in the present. He also starts to use some words. His pronunciation is very bad at the beginning. But it isn't important for me. I understand him. And I'm very happy that somebody speaks to me.
Friday is a good student. He is clever. He improves quickly. Soon, he can say some words like an Englishman. Of course, not all words, but the words which he says correctly make me very happy.
I see that Friday very often repeats aloud what I say. I think that it also helps him to learn so fast.
I think, "Learning a language is quite easy. You only need to copy what you hear and if you don't understand something, you need a picture. Then, you need a lot of practice. This is the best system."
Friday's progress is fast. He is able to talk more and more every day. In a couple of months, we can have a nice conversation.
Friday likes my tools. They are very interesting for him. He especially likes the telescope. He borrows the telescope very often. He goes to one hill. And he watches everything around.
One day, we speak about Friday's people and why they have enemies. He says, "There is a war between two groups of local people. We are neighbours but we don't like each other. We have many conflicts. There is never peace. We kill each other whenever we can."
Friday tells me that they eat human meat like their enemies. They also do rituals when they catch their enemies.
Friday tells me about the sea and the currents in the sea. Thanks to Friday, I know more about the history, culture and traditions of his people.
WORDS FROM CHAPTER 23
herb
similar
pepper
cooperation
salad
sauce
team
especially
ritual
simple
short
sentence
topic
point
aloud
language
learning
copy
practice
neighbour
progress
couple
role
whenever
enemy
war
system
conflict
peace
borrow
seriously
history
culture
tradition